CRCC President Zhao Guangfa Visited Lekki Free Zone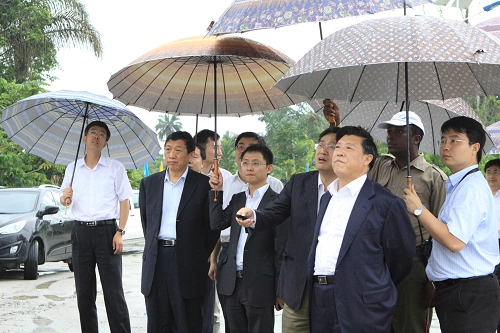 On June 17, 2012, CRCC President Mr. Zhao Guangfa and Vice President Mr. Hu Zhenyi paid a inspection visit to Lekki Free Zone.
While inspecting the engineering construction sites and visiting the LFZ enterprises, Mr. Zhao Guangfa  inquired the project progress and extended his cordial greetings to all the staff.
In the following meeting, Mr. Zhao and Mr. Hu listened to Mr. Chen Xiaoping's report on the development progress of LFZ.
Mr. Hu hoped Lekki Free Zone to speed up the construction.
Mr. Zhao fully valued the LFZ achievement and stressed that speeding up the development of LFZ was the most important objective. He said the management of CRCC would fully support the LFZ development.
Mr. Zhao also met Mrs. Oworu, representative of Governor of Lagos State and Commissioner of Commerce & Industry, Lagos State Government. On behalf of the Governor of Lagos State, Mrs. Oworu hoped to have all-round cooperation with CRCC.
Mr. Chen Xiaoxing, Assistant President of CRCC and MD of LFZDC, Mr. Liu Zhiming, Chairman of CCECC, Mr. Zhang Peiran, Director of Capital Operation Department of CRCC, Mr. Wu Xiangong, Director of International Department of CRCC, and Mr. Lou Ao, Real Estate Development Department of CRCC attended the meetings.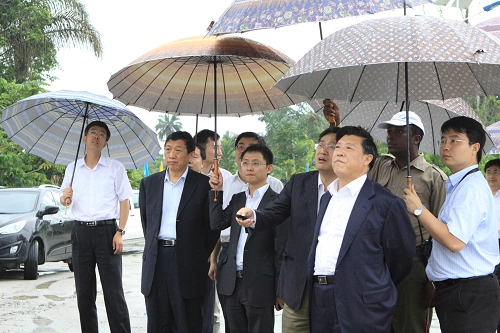 Mr. Zhao Guangfa, President of CRCC (right front), Mr. Hu Zhenyi, Vice President of CRCC visited in LFZ