8 Key Drivers of Investment Opportunities in Nigeria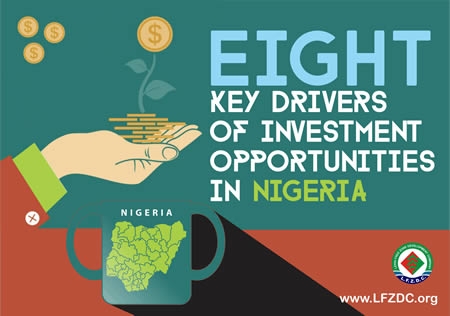 There are numerous reasons why Nigeria is increasingly viewed as a viable and attractive investment destination in the world. As they say, numbers don't lie, below are some numbers to quickly give you an overview of the investment potentials of Nigeria.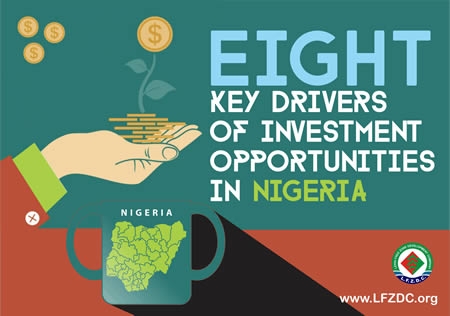 Nominal GDP = $568.5 Billion  (2014) The Biggest Economy in Africa
GDP growth rate = 2.97% (2015)
GDP per Capital = $3203 US Dollar (2014)
FDI Inflow = $3.64 Billion (2015)
External Reserve = $27.87 Billion (March, 2016)
Inflation Rate = 11.4% (March 2016)
Marginal Revenue Product [MPR] = 11% (March 2016)
Unemployment Rate = 9.9% (2015)
Debt Stock = $55.58 Billion (June, 2015) Domestic: $44.86 billion, External:$10.72 billion
Debt to GDP ratio = 12.5 %
Certain key drivers are responsible for making Nigeria an attractive investment destination; this article discusses 8 of such key Drivers of Investment Opportunities in Nigeria.
8 Key Drivers of Investment Opportunities in Nigeria 
1.       Abundant Natural Resources
Nigeria is endowed with significant agricultural, mineral, marine and forest resources that are needed for the production of goods and execution of services. Its multiple vegetation zones, plentiful rain, surface water and underground water resources and moderate climatic extremes, allow for production of diverse food and cash crops.
The main cash crops are cocoa, cotton, groundnuts, oil palm and rubber. Extractions from these for export and local industrial use include cocoa flour and butter, rubber crumb, vegetable oil, cotton fibre and yarn. The rain forests have been well exploited for timber and wood products of exotic and popular species.
Oil and Gas, by value, are the most important minerals; often extracted by foreign multinationals that bring in the much needed capital and knowledge. They are exploited and produced in the Niger Delta basin and off-shore on the continental shelf and in the deep-sea of the territorial waters.
Nevertheless, there are significant non-oil mineral deposits on land many of which have been identified and evaluated: coal, iron ore, gypsum, kaolin, phosphates, lime -stone, marble, columbine, baryte and gold.
2.       Investment Incentives
The Federal Government of Nigeria offer a number of investment incentives intended to stimulate foreign direct and internal investment. Some of these incentives are available across all sectors whilst others are industry specific.
The Companies Income Tax Act has been amended in a bid to encourage existing and potential investors and entrepreneurs.
Industrial organisations are encouraged to engage in research and development (R & D) for the enhancement of their processes and products. Up to 120% of expenses on R & D are tax deductible provided that such R & D activities are carried out in Nigeria and are connected with businesses to which allowances are granted. The result of such research could be patented and protected in accordance with internationally accepted industrial property rights.
A comprehensive package of incentives (e.g. 3-5years tax holiday for pioneer activities) put in place to encourage investment. Click here for more.
3.     Policy Environment Supportive of Private Entrepreneurship
Nigeria's current industrial policy thrust is anchored on a guided dc-regulation of the economy and Government's dis-engagement from activities which are private-sector oriented, leaving Government to play the role of facilitator, concentrating on the provision of incentives policy and infrastructure that are necessary to enhance the private sector's role as the engine of growth.
The industrial policy is intended to:
Generate productive employment and raise productivity.
Increase export of locally manufactured goods.
Create a wider geographical dispersal of industries.
Improve the technological skills and capability available in the country.
Increase the local content of industrial output by looking inward for the supply of basic and intermediate inputs.
Attract direct foreign investment.
Increase private sector participation.
4.      Very Strong Financial System
Well developed banking and financial sector made up of 22 deposit money banks, 5 discount houses, over 700 microfinance banks, 101 primary mortgage banks, 108 finance companies, 1,621 bureaux de change operators and 5 development finance institutions. Sufficient access to working capital and other credit facilities.
5.      Trainable, Resourceful and Cost Effective Workforce with 60% as Youths
Nigeria has an abundance of skilled labour at an economic cost, resulting in low production costs, among the lowest in Africa. Due to a massive expansion in the education sector in the last two decades, the coloration and quality of the Nigerian work force has changed to include a large corps of highly trained personnel in mechanical, civil, electrical, electronics, chemical and petroleum engineering and biotechnics.
Disciplines, apart from pure sciences, engineering and technologies, include social sciences, business studies (management, banking and finance), architecture, environment and urban management studies. Also, a sizeable Nigerian population has been and is being trained outside the country, in some of the best colleges in the United States, Canada, United Kingdom, Germany, France, Russia, Japan and China.
Every year, about 2,000 of these Nigerians return home to seek employment or accommodation within the economy. For the less skilled and unskilled labour, the country depends on the primary and secondary school systems whose annual enrolments are over 3.5 million and 1.5 million, respectively.
6.    Highest Return on Investment (ROI) (35%-45%) in Africa
Dynamic private sector, which has assured greater responsibilities under the new economic environment –privatization of government owned enterprises.  Presently, Return on Investment (RoI) ranges from 35% – 45% making it one of the most profitable investment destinations in the world.
Exchange control regulations have been liberalized to ensure free flow of international finance. Guarantee of unconditional transferability/repatriation of profit and dividends net taxes through an authorized dealer, in freely convertible currency.
7.     Legislation
Previously, FDI in Nigeria was obstructed by minimum capital requirements and indigenous ownership thresholds (of up to 40 per cent in some cases). The NIPC Act replaced previous acts on foreign investment in Nigeria and essentially removed restrictions on foreign ownership of business in Nigeria, except for in limited circumstances.
100% foreign ownership of Nigerian businesses is possible except for within the oil and gas industry, where investment is limited to existing joint ventures or new production sharing agreements and the Nigerian Local Content Act passed in 2010 seeks to promote local participation in the industry.
The NIPC Act also introduced legislation to prevent businesses from being nationalised or expropriated by the Nigerian government and protection against an investor being forced to surrender his interest in the business.
8.    Strategic Location – hub of the West and Central African Markets
Nigeria is located in West Africa and occupies 923,768 square kilometers of land with over 180 million people which also stretch into the growing West African sub-region of over 350 million people. Also, Nigeria is strategically located as Africa's business hub and can naturally connect to Europe, the Americas and Asia in relatively short time – in an average of eight hours.
This is the shorter than most African countries. And in some of the countries, Nigeria connects them in just six hours. This relative short travel time should attract a lot of travelers into Nigeria for business, leisure or connect flights to other destination.
Conclusion
The 8 key drivers of Investment Opportunities in Nigeria, as discussed above, are validations of the investment potentials of Nigeria. No wonder we made the 'N-11' list of countries. The Next Eleven (known also by the numeronym N-11) are the eleven countries – Bangladesh, Egypt, Indonesia, Iran, Mexico, Nigeria, Pakistan, the Philippines, Turkey, South Korea and Vietnam – identified by Goldman Sachs investment bank and economist Jim O'Neill in a research paper as having a high potential of becoming, along with the BRICs, among the world's largest economies in the 21st century!
Ready to invest in Africa's leading investment destination? Click here to get started with Lekki Free Zone!