Report On The Visit Of The Nass Committee Members On Trade And Investments To The Lekki Free Zone On Thursday, 19th Of January, 2017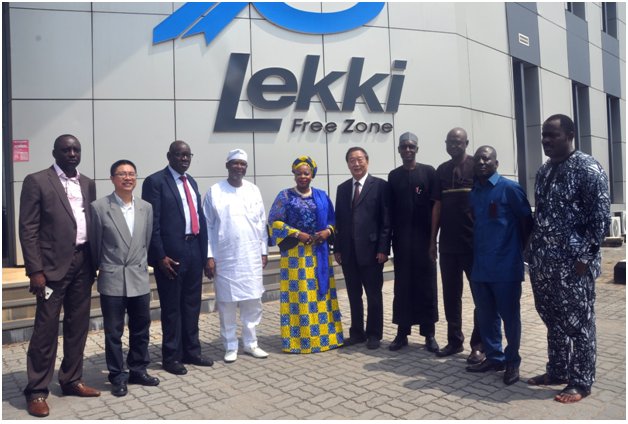 On the 19th of January, 2017, the members of the Senate committee on Trade and Investments, visited the Lekki Free Zone. The delegates of threehonorable members of the  Senate, who are Sen. Borrofice Robert, Sen. Yusuf A. Yusuf was led by the committee chairperson, Sen. (Mrs.) Fatimat Raji Rasaki on a familiarization visit to the Zone.
The delegates arrived the Free Zone at about 12 noon and was received by the LFZDC Top Management staffs into the Administrative complex, where some introduction and overview of the Free zone concept, including the objectives, past projects and ongoing construction projects were shown to them.
The presentation was done by the LFZDC Managing Director, Mr. Ding Yonghua, who briefed the delegates on the achievements of the Free zone in attracting foreign and local investors, some of who are already operating in the Zone, thereby increasing foreign direct investments, employment opportunities and economic development.
In response to this, the distinguished Senators expressed some enlightenment as well as optimism in the free zone project, in joining the Federal government in its effort to increase local production, that is, "Made in Nigeria" products and growth in internal revenue and exports.
The delegates thereafter toured round the Lekki Free Zone to observe ongoing projects and operating enterprises. Sen. FatimatRasaki urged all local manufacturing companies to set up their investments in the Lekki Free Zone, and take advantage of the 24hours constant power supply instead of considering other neighbouring countries.
Also in attendance was the NEPZA AGM, in charge of Lagos state Zonal office, Mr. Mu'azuRuma, and two representatives from Lagos state Ministry of Commerce & industry in persons of Mr. Ogunmosunle and Mr. Ajayi.