Working visit of His Excellency, Gov. Ambode Akinwunmi to the Lekki Free Zone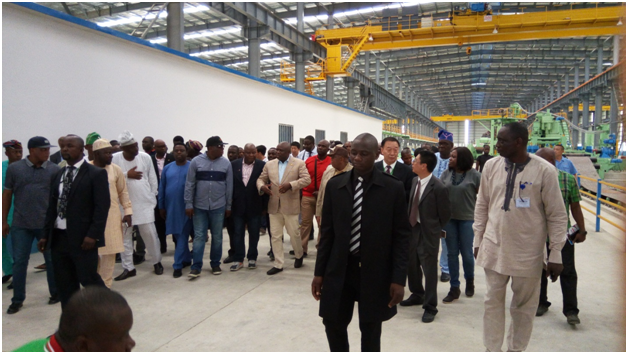 On the 24th of March, 2017, the Governor of Lagos State, His Excellency Akinwunmi Ambode visited the Lekki Free Zone. The purpose of his visit is to observe the ongoing projects and developments at the Free zone and its environs.
LFZDC Chairman, Mr. Abiodun Dabiri who gave the welcome speech, sought for urgent attention from the LASG on development of supporting road networks for the free zone area. He stated that the LFZ will diversify the economy of Lagos state and Nigeria as a whole, as much as create much employment. He pleaded to the Government to create enabling environment for the free zone area.
A presentation was done by the MD LWIL on the current challenges faced.
LFZDC MD also made a presentation on infrastructural development progress, investors' project (introducing Yulong, Asia Africa, Huachang, Aslan, Golden dream, Crown natures, Candel, H&Y, Sinotruck FZEs). He also spoke about the Company Social Responsibilities between 2016- 2017 and project profit prediction and expectations. Mr Ding prayed to the government to see to the creation of alternative route for the Free Zone. He reiterated the issue of offshore banking services encountered by the Lekkifree zone due to the unstable national policy. He prayed for more shareholders' support from both sides.
To this, Governor Ambode really commended the good works and pledged his support on the Free zone projects. He stated that his desire is to make the Eastern part of the state a major economy driver of the state. He also thanked the community leaders for maintaining peace for the past eight months, stating that the project would eventually bring lots of benefits including job opportunities to the surrounding communities. He promised synergy among stake holders to make sure that the road networks development are fast tracked. He also promised that backlogs of LASG investment of the project would be cleared as soon as possible.
Commencement of port construction would start in April unfailingly, so as to facilitate generation of returns on investment. He reiterated his hopes and confidence in the project in that in the next few months, the entire area would experience great changes.