Business Meeting for Members of the Diplomatic Community at the Lekki Free Zone Development Company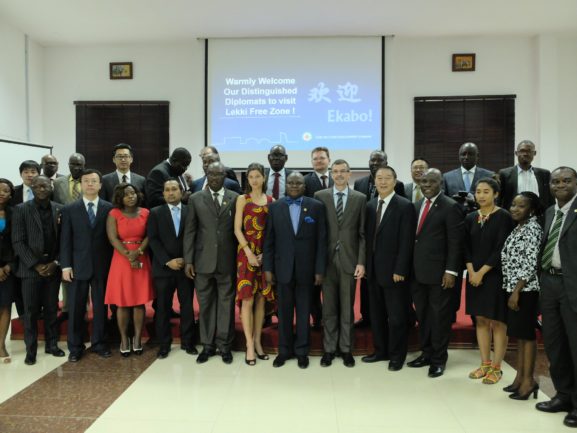 On the 6th of June, 2017 the Lekki Free Zone Development Company hosted representatives of the Lagos State Government and members of the Diplomatic Community to a Business Meeting and Tour of the South-West Quadrant of the Lekki Free Zone. The Business Meeting, which had several representatives from G20 Countries, had in attendance representatives of Canada, Britain, Peoples Republic of China, France, Ireland, Malaysia, Belgium, Switzerland, Netherlands, Spain, Brazil, Germany, Namibia; with the Commissioner of Commerce, Industry and Co-operatives, Prince Rotimi Ogunleye leading the entourage from the Lagos State Government.
At the Business Meeting, Prince Ogunleye conveyed the readiness of the State Government to infrastructural development within the Lekki Peninsular and to ensure industrial development. He further reiterated the commitment of the State Government to Job and Wealth creation.
The Managing Director of the Lekki Free Zone Development Company, Mr. Ding Yonghua presented a progress report about the Lekki Free Zone while reiterating that the Zone was set up as an international industrial harbour city welcoming investments from all over the world and not just Nigeria and China. He also explained that in addition to the incentives being provided by the Government, the Management of the Lekki Free Zone will provide further incentives to encourage investors to situate their factories within the Zone. He further showcased the industries within the Zone which range from a Steel Pipe Manufacturing Factory which manufactures steel pipes for use in the Oil and Gas Industry, for Water Reticulation amongst other uses; Vehicle Assembly Plants (Heavy Duty, Buses, Trucks, Compactors); Agrochemical Formulation Plant; Office Furniture Manufacturing Factory, Garment Making Factory; amongst others. He ended his presentation with a call to countries all over the world to invest in the Lekki Free Zone as the new haven for Foreign Direct Investment in Nigeria which is always geared towards ensuring the ease of doing business for all Investors.
The S/W Quadrant of the Lekki Free Zone measure approximately 3,000 Hectares of Land and bothered by the Atlantic Ocean on the South and the Lekki Lagoon on the North. The S/W Quadrant of the Lekki Free Zone forms one of the four (4) Quadrants of the 16,500 Hectares of Land designated as a Free Zone by the President of the Federal Republic of Nigeria. The S/W Quadrant is a strategic partnership between the Lagos State Government (ably represented by Lekki Worldwide Investments Limited) and China-Africa Lekki Investments Limited which is Consortium of Chinese Companies which have the full backing and support of the Chinese Government. The Lekki Free Zone is being developed into an industrial harbour city with transportation advantages ranging from the proposed Lekki Deep Seaport which is less than 3kms from the Zone, the proposed International Airport to be situated about 10kms from the Zone and access to the inland waterways with an extensive and well planned rail and road access.