LEKKI DEEP SEA PORT, A NEW HORIZON IN NIGERIA MARITIME BUSINESS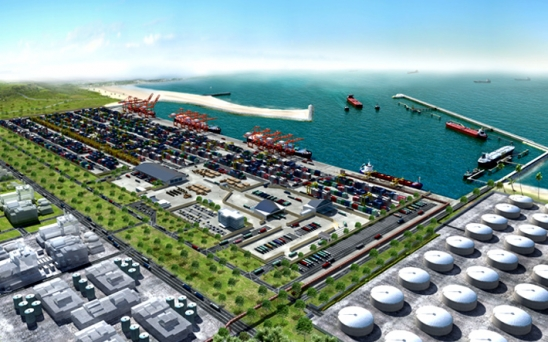 The commissioning of Lekki Deep Seaport on March 29, 2018, has rekindled the hope of many Nigerians whose shipping companies take their cargoes to neighbouring ports for discharge because Nigeria's shallow waters cannot carry large vessels.
But on completion of the Lekki Deep Seaport in 2020, Nigeria is targeting about 1.5 million 20-foot equivalent unit (teus) container capacity annually which is expected to increase to as high as about 4.7 million when the project's operations commence fully.
Nigeria's ports are the shallowest and riskiest in the West African sub-region, a situation that has necessitated many shipping firms to call on other neighboring ports.
This has cost Nigeria a lot in terms of cargo throughput, contribution to Gross Domestic Products (GDP) and employment. According to the President, National Council of Managing Directors of Licensed Customs Agents (AMDCLA), Lucky Amewero, Nigeria has lost its maritime leadership position to other countries not only because of security lapse but because of shallow draft. While Nigerian water is 13 metres deep, Ghana is 19 metres, Togo is 16 metres, Cotonou 15 metres and Cameroon is 16 metres.
"You will discover that lately, there was a drop in cargo coming into the country. Nigeria controls 80 per cent of the throughput of cargoes within the sub-region but it is losing them now. We have lost trans-shipment; we have lost domestic cargo of almost 40 per cent. We have all these ports around us building their draft level. Nigeria's draft level is 13 metres. Ghana is going to 19 metres. That means Ghana can carry as much as 20,000 teus. Togo is going to 16 metres, Cotonou is 15 metres and Cameroon is 16 metres. So, all the ports around us have higher drafts. Those ones can take 14,000 teus. All these ports are targeting our cargoes. In another two years it is going to be terrible for this country," he lamented.
But the Vice President gave Nigerian importers hope recently when he announced that the Lekki Deep Seaport would be as deep as 16 metres. This implies that it would attract over 16,000 teus on completion.
With this, he stated, the Federal Government expects the port to influence the generation of up to 170,000 direct and indirect jobs in the Nigerian economy. He said the Lekki Port channel of about 16 metres draft is not currently obtainable in any seaport or any port in the country.
With a total cost of $1.5 billion, Lekki Deep Seaport project is a multi-purpose deep seaport at the heart of the Lagos Free Trade Zone, and is expected to offer enormous support to the burgeoning commercial operation across Nigeria and the entire West African region.
According to the Acting Director General of the Infrastructure Concession Regulatory Commission (ICRC), Chidi Izuwah, the Lagos State government has paid up its 18.15 per cent equity while Nigerian Ports Authority (NPA) paid $23 million out of the $110.9 million of its equity, which is 20 per cent.
"The Lekki Deep Seaport project site is in compliance with Section 20 of the ICRC Act 2005, which empowers the Commission to monitor compliance and ensure efficient execution of all nationwide PPP projects," he said.
Lekki Port is designed to ensure that Nigeria retains its pride of place in the West African sub-region with a view to providing berthing for larger vessels, which is the growing global trend in the maritime sector.
Lekki Port will be equipped with the best infrastructure and terminal services to attract and maintain large volume shipping line customers. Facilities at the port will include well-designed marine infrastructure, container, dry bulk and liquid terminals, making it a truly multi-purpose port.
Vessels will approach Lekki Port through a 9km long and 19 metre deep navigation channel reaching the 600m wide turning basin. The port is protected against ocean waves and currents by a main breakwater of 1.500m long and a secondary breakwater of 300m, providing a controlled environment for the handling of vessels alongside the 1.500m quay at a water depth of 16.5m and three liquid jetties with 19m water depth. For safe and secure handling of shipping, berthing facilities for marine services (Tugboats, Pilot boats) are provided as well.
Its container terminal will have a 1,200m long quay, three container berths and a storage yard with over 15,000 ground slots. The general arrangement of the container storage and handling area shall consist of a stacked container arrangement. The terminal is designed to support a throughput of 2.7 million annually.
The reason most ports in Nigeria are not operating 24-hour service is because of lack of electricity infrastructure. Despite the Vice President's directive on 24-hour operations in ports, the ports are not still complying with it because of lack of power and good road network.
But the promoters of Lekki Port have assured that such facilities will no longer be a hindrance to the observance of 24-hour operation because plans have been made to supply electricity from a dedicated power plant of 30MW capacity plus 10MW emergency.
Other facilities include potable water through captive water treatment plant and wastewater treatment plants; storm water drainage and sanitary waste water drainage and firefighting systems.
Above all, there is a plan for Liquid Berth for the port, which is capable of servicing vessels up to the size of 45,000 deadweight tonnage (DWT) initially, with design flexibility for expansions, catering to an increased capacity of 160,000 DWT.
Liquids like finished products (petrol, diesel) could be handled with storage in tank farm also located in the Lekki Free Zone close to the Port site. The berth will be equipped with loading arms and connected by pipelines running along the breakwater to carry cargoes between the tank farm and the vessels.
With all these accompanying prospects, the development of the Lekki Deep Sea Port will usher in numerous opportunities with immense positive impact on investment attraction, job creation, infrastructure development and revenue generation for all stakeholders in the Ibeju-Lekki Axis.
Currently, the Customs Processing Centre located within the Lekki Free Zone will be the converging point for all freight forwarders and Customs Licensed Agents who are doing business in the Ibeju-Lekki axis. The ease of doing business is the major attraction for existing and prospective business men and this is the reason why investors will be attracted to invest in the Lekki Free Zone.