Visit of Bosch Group to Lekki Free Zone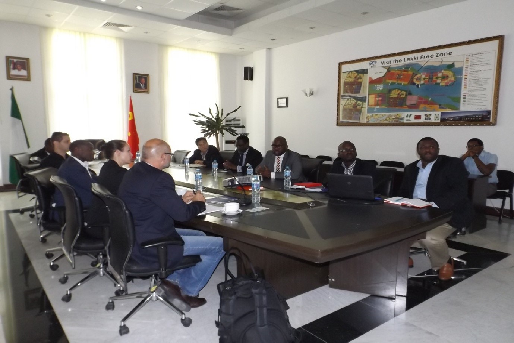 On June 11, 2015, members of the BOSCH Group led by Mr. Ghislain Noumbessy (Managing Director) visited the Lekki Free Zone. The BOSCH Group were received by Mr. Adeyemo Thompson (DMD, LFZDC), Mr. Chi Changgui (Commercial Controller, LFZDC), Mr. Ope George (DMD, Lekki Worldwide Investments Limited) and other members of staff of LFZDC.
A brief PowerPoint presentation about the Lekki Free Zone was shown to the delegation, while a brief tour around the zone was conducted in order to convince the investors on the need to set-up their facility within the zone.

Photograph of Meeting between Members of the BOSCH Group and LFZDC Team
After the tour, the Head of Delegation for the BOSCH Group, on behalf of his team, commended the Management of LFZDC for the level of success achieved towards developing the Zone. They also assured the LFZDC Management team of their interest to invest in the zone in the nearest future. The visit was indeed a huge success.