The Comptroller General of the Nigeria Customs Service Inaugural visit to the Lekki Free Zone Development Company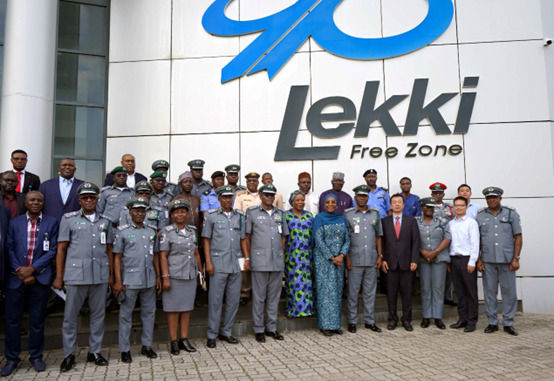 On July 19th, 2023, Mr. Bashir Adewale Adeniyi, the recently appointed Comptroller General of the Nigeria Customs Service, conducted an official visit to the Lekki Free Zone Development Company (LFZDC). The entire Management and Staff of LFZDC, along with representatives from the Customs Processing Centre (CPC), Nigeria Export Processing Zone Authority (NEPZA), and the Nigeria Immigration Service, warmly welcomed the esteemed Comptroller General at the LFZDC Administrative Block. The primary purpose of his visit was to gain a comprehensive understanding of the current development status of the Lekki Free Trade Zone (FTZ) and explore opportunities for enhancing the management system of Nigeria Customs services within the zone.
Mr. Zhang Bin- MD, LFZDC in his welcome address briefed the Comptroller on the development of the Lekki Free Zone, and its achievement since inception seventeen years ago. The exploration and development of the Lekki Free Trade Zone has driven the growth of the Nigeria economy. It has brought about the creation of over 5000 employment opportunities, and government comprehensive income of the Lagos Lekki Peninsula region, and promoted in-depth cooperation between China and Nigeria. Mr. Zhang in his welcome address also highlighted some of the challenges, reiterating that the Zone's Customs clearance efficiency is not at par, and this is negatively impacting the timely production and sales of Enterprises within the Zone.
Expressing his gratitude for the warm hospitality extended to him, the Director General of Customs acknowledged the significance of the Lekki Free Trade Zone as a vital component of Nigeria's economy, serving as a trailblazer and leading force in the country's economic development. He commended the zone for its notable achievement of surpassing 5 billion naira in operating income during the first half of the year, an impressive milestone. As an integral government agency, the Nigerian Customs Service is deeply committed to supporting Nigeria's economic development. Recognizing the Lekki Free Trade Zone and the enterprises operating within it as important partners and allies of the Nigerian government and the Nigeria Customs Service, he reaffirmed the dedication of both entities, along with NEPZA, to provide a comprehensive range of optimal services for the Lekki Free Zone as part of their shared responsibilities.
In view of consideration that most of the Free Zone Enterprises are in its early stage of development, are not familiar with the Nigerian government policies, and as such, have weak compliance capabilities, loose development space measures in line with the principle of "minor penalties for the first violation, active guidance, and punishment for repeat offenses. The Comptroller General in his closing remark enjoined the Management of the FTZ to visit the Nigeria Customs Service and the Nigeria Export Processing Zone Authority in Abuja to further strengthen the two-way communication and foster a working relationship between the government agencies and the Free Trade Zone.